nanopay featured in the exclusive Fintech Power 50 industry guide for 2020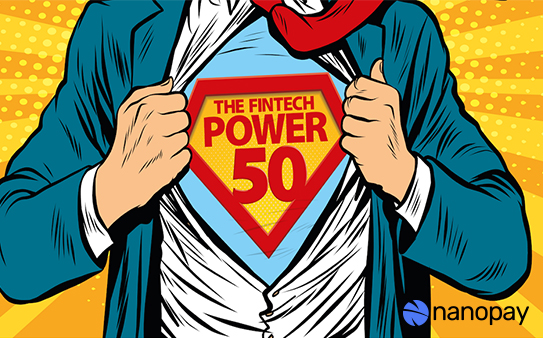 nanopay Corporation is amongst those celebrated as the most innovative and transformative Fintech companies of 2020
4th December 2019, London: Industry guide, the Fintech Power 50 has launched the 2020 edition of its exclusive annual programme, shining a spotlight on nanopay and those who are transforming financial services for the better.
Showcasing 40 trailblazing companies and 10 of the most trusted industry leaders across the Fintech ecosystem, nanopay is in good company alongside the likes of Jumio, Form3, Gailelo, Funding Options, Currency Cloud, Modulr, Tide, and Oak North. Following an extensive nomination and voting process, the nominated companies celebrate their inclusion at Fintech Connect on 3-4th December this year.
Jason Williams, Co-Founder and Managing Director at the Fintech Power 50, said: "We are very proud of all the companies that have been nominated and have made it onto the next edition of the Fintech Power 50. Our members include some well-known faces in the industry; some individuals and companies that are rising stars, and some that are blazing a trail for fintech.
Our first cohort of the Fintech Power 50 saw consistent success for our members, and we are looking forward to supporting the new group with an even more ambitious and exciting programme."
"We are incredibly honoured to be celebrated amongst the most transformative Fintech companies of 2020. At nanopay, we continue to push the boundaries of innovation," said Laurence Cooke, CEO and Founder of nanopay Corporation. "We are building something truly unique that will transform the way the banks and multinational corporations will manage cash and liquidity. The future of intercompany and wholesale payments has never looked so bright."
"The Fintech Power 50 guide does a great job of recognizing 'game changing' companies in the financial services industry," said Ivy Luu, Director, Liquidity Management Solutions at nanopay Corporation. "We believe this opportunity will spotlight our Liquid solution in the eyes of key global decision makers. nanopay's inclusion in this exclusive programme is a testament to the work the team is doing to bring innovation to liquidity management–a sector that has remained stagnant for decades."
nanopay's Liquid product allows for real-time sweeps and will completely change how liquidity products function today. Enabling real-time views of cash positions, consolidation of cash positions across entities, and managing foreign exchange risk exposure are simply a few of the benefits. nanopay's innovation will unlock large amounts of trapped capital for global corporations, which can then be used to pay down debt or invest in future opportunities.
About nanopay Corporation:

Founded in 2013, nanopay is a global payments technology company based in Toronto offering business payment and liquidity products. nanopay offers businesses a cost-effective and secure way to send both domestic and cross-border payments, and offer banks and their corporate clients a real-time intercompany liquidity solution to free trapped capital. Built on Centralized Ledger Technology (CLT), the platform delivers a high level of performance and resilience, improving the visibility and security of payments. nanopay's long term goal is to digitize money for central banks and offer the infrastructure to enable what's more commonly known as Central Bank Digital Currency (CBDC).

For more information about nanopay Corporation, please visit: https://nanopay.net/
About Fintech Power 50:
The Fintech Power 50 is the annual bible to the most influential, innovative and powerful figures in the Fintech industry, shining a spotlight on those who are transforming financial services for the better. It serves as the go-to hub for fintechs and provides an exclusive accelerator programme designed to support a company's global growth, including; PR amplification and increased brand awareness, business development, talent acquisition, and business investment.
For more information about the Fintech Power 50, please visit: https://www.thepower50.com/