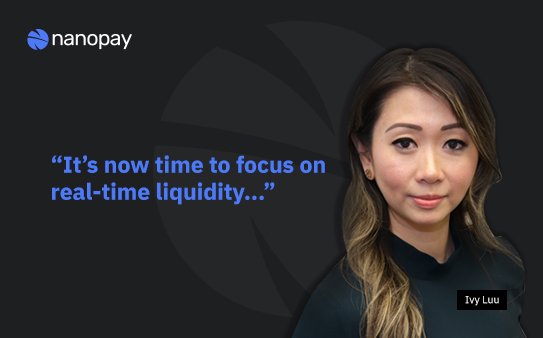 nanopay's Director, Liquidity Management Solutions, Ivy Luu, is the definition of 'small but mighty'. No, she does not fit the conventional archetype of a global bank treasurer, but that's fitting, because Ivy is anything but conventional in how she thinks about cash and liquidity management. With so much changing in the industry, I sat down with Ivy to discuss the current state of legacy banking, technology's role in cash and liquidity management, and the soon-to-be reality of real-time liquidity.
Q: Let's jump right in. Having spent years at arguably the world's leading global transaction bank (Citibank), what is it about liquidity management that fascinates you, and how did you end up at an early stage startup?
Ivy: Global transaction banks have been focusing on corporate payables and receivables, both improving their offerings and innovating with products such as virtual accounts. Although this has strengthened their position in the industry, there is far more opportunity in the liquidity management space, which had not seen significant innovation in many years.
Having worked at a leader in global transaction banking, I was fortunate to gain exposure to some of the world's largest multinational corporates. This enabled me to gain deep domain expertise and better understand the needs and challenges that global corporates face.
The difficulties lie in spurring significant change from within such a large bank. Transitioning my journey to an early stage startup provided me with the opportunity to challenge the status-quo that had formed in the industry, and transform what liquidity solutions will look like in the future. nanopay's technology is not only fast and scalable, but provides the interoperability necessary to work with aging banking infrastructure. This enabled us to build the next-generation of liquidity solutions for banks, which not only fascinates me, but challenges me and fuels me.
Q: Until recently, cash and liquidity management did not change significantly for decades. Why now?
Ivy: I believe the evolution of real-time payments has been a catalyst for change in cash management overall. Liquidity management, on the other side of the equation is now understandably, becoming the focal point as well. With widespread improvements in technology, such as machine learning, blockchain, or APIs, it is now creating a perfect storm for disruption and change in the industry. Ultimately, banks and the corporates have to be ready to implement new solutions and I believe everyone is taking those steps forward now more than ever.
Q: You're a huge advocate for real-time liquidity. Can you explain what that term means to you, and why it could be so impactful for both banks and their corporate clients?
Ivy: Much of the world is either discussing or implementing real-time payment schemes, but very few are looking at the other end of the equation; real-time liquidity. As we evolve to real-time payments around the globe, we must look at the larger impact it can have. It's now time to also focus on real-time liquidity, real-time visibility and real-time reporting. Only then will corporates be able to take full advantage of what 'real-time' can truly do; make the most efficient use of cash, and release enormous amounts of capital trapped by traditional banking infrastructure.
By moving to a real-time payment scheme, corporate liquidity management processes can change drastically, and for the better.
Q: Finally, you're leading the development of a real-time cash and liquidity management product for banks and their corporate clients. Can you briefly explain what that is and why you believe it's so transformative?
Ivy: We are building solutions for not only real-time movement of cross border payments, but also real-time cash consolidation across all entities around the globe.
Liquid, our cash and liquidity management product, enables real-time intercompany payments and real-time visibility through a fully virtualized account management platform. By integrating directly into a bank's core banking platform, both the bank and it's corporate clients can reap the benefits of new-age technology without a costly platform overhaul for the bank.
Leveraging our state-of-the-art, self-service Virtual Account Management platform, Liquid enables corporates to pool funds and net payments. Finally, corporate treasurers can take control of their global account management across all entities, and drastically reduce the number of physical bank accounts they employ. By creating an ideal, virtual account hierarchy, organizations will significantly cut costs and reduce reconciliation efforts.
Our solution is holistic and our platform has built in a host of powerful capabilities, like intercompany loan management and configurable rules to uniquely tailor the movement of funds.
I'm extremely excited to show the world what Liquid is capable of, and the impact real-time liquidity management can have on both banks, and their corporate clients.
—————————————————————————————————————————————————-
A former VP, Treasury and Trade Solutions at Citibank, Ivy is helping transform the industry via an innovative, real-time cash and liquidity management solution and is a presenter at BAFT's Global Payments Conference on February 27th. To book a meeting with Ivy during the BAFT conference, please click the link below.